Knockmany Cup 2015
24th Jun 2015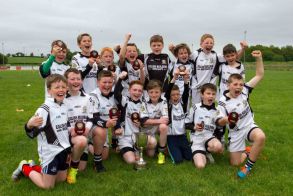 The famous Knockmanny Cup is the longest running competition for Primary School's football in Tyrone and was brilliantly hosted again by Mrs Gemma Quinn from St. Patrick's Aughadarragh. Schools came from the Clogher Valley area and beyond to battle for this year's honours. After the league sections in the girl's football Roan St. Patrick' Eglish , St. Mary's Cabragh, St. Mary's Ballygawley and St. Patrick's Aughadarragh qualified for the semi-finals with Aughadarragh and Cabragh contesting the final.
In the boy's competion Roan St. Patrick's and Ballygawley faced off in one semi-final while St. Malachy's Glencull and St. Mary's Cabragh played in the other. After two very competitive games the boys from Kileeshil and Eglish emerged as finalists.

The scene was set and the large crowd filled the stand in Augher anticipating two very competitive finals, they were not disappointed. The girls from Aughadarragh and Cabragh served up an epic which produced a fantastic and tense last moments with the girls from St. Patrick's Aughadarragh coming out on top.
The boy's final also served up a game that will last long in the memory of the large crowd. The two teams were very evenly matched with Cabragh narrowly in front at the half-time break. A rip roaring second half left Roan St. Patrick's just in front at the final whistle. Both teams deserve huge credit for the quality of football that was served up.
Fergal McCann was on hand to present the cup to winners.
A big thank you to Mrs Gemma Quinn for another excellently organised tournament.
Cumann na mBunscol is proudly sponsored by