Cabragh Cup 2015
10th Jun 2015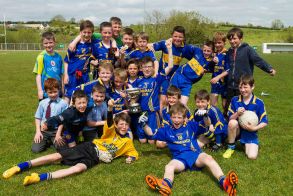 The Cabragh Cup celebrated its 30th year on Tuesday in Kennedy Park, home of Killeeshil GFC. Ten schools took part this year across two sections in one of the major football tournaments of the year in the South Tyrone area; St Mary's Aughnacloy, St Mary's Ballygawley, St Malachy's Glencull, St Patrick's Donaghmore, St Joseph's Galbally, St Patrick's Roan, St Mary's P.S. Pomeroy, Edendork P.S., St Patrick's Aughadarragh and host school St Mary's Cabragh.
After all the league games were played off in the morning, the teams that emerged to make the Cabragh Cup semi-finals were St Mary's P.S. Cabragh, St Patrick's Donaghmore, St Mary's Aughnacloy and St Patrick's Roan. Played in glorious conditions, two keenly contested semi-finals saw Master McCreesh's Roan P.S. defeat Master McKenna and Master Kelly's St Mary's Cabragh in a cracking game of football. In the second cup semi-final, Master McCrory's St Mary's Aughnacloy just fell short of creating a huge upset when they narrowly lost out to the hotly tipped St Patrick's Donaghmore team, lead by county star Master Peter Harte.
In the Cabragh Cup final, Donaghmore took on Roan and the huge crowd were entertained by an excellent display of football. But it was Master Harte's St Patrick's Donaghmore (fresh from their success in the Simon McAleer Cup last week in Galbally) who came out just on top following a heroic battle from both teams. Records show the last time they lifted the 'Joe Sheehan Cabragh Cup' was 1996 so this is a remarkable success for the school and parish! Maith thú!
Cumann na mBunscol is proudly sponsored by